Adam of the Road is
a great story to use as a read aloud to go with any study of the medieval time period. The story touches on many occupations of the times such as minstrels, falconers, squires, knights, abbots, priors, pilgrims and many more which give a great place to jump off into a study or reinforce what you are already learning in your history studies. It's also touching, compelling and relational. We did it as a read aloud for the whole family.
My daughter age 10 completed the Adam of the Road study guide with Total Language Plus to go with our reading while the other kids worked on different guides. When I asked her what she wanted me to say about it she said, "It was hard". Part of the reason I think she thought this is that I chose for her to do this as a bit of a challenge. Previous to this one she did The Cricket in Times Square with Total Language Plus which is a bit easier. Total Language Plus recommends The Cricket in Times Square for 4th or 5th graders while Adam of the Road is recommended for 5th-8th.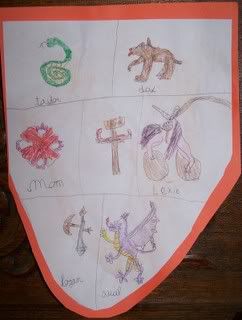 Even though I know it wasn't one of her favorites she did learn a lot and might admit on a good day (she's my Eyeore sometimes) that she enjoyed some of the projects. Thought maybe I'd post a few examples of some of the work she did. She chose to do project #7 which was about making a coat of arms for her family.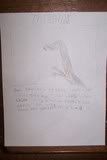 She also did a report on Falconry from the Pen and Paper section as well as a newspaper advertisement for a lost dog. She found a lot of information on line easily for her Falconry report.
In the projects she also translated a sentence from English to Latin using a Latin/English dictionary. She tried, "Cast your cares upon Him because he cares for you," which is her favorite verse. I'm sure she didn't translate it correctly (all those case endings) but that wasn't the point. She had fun doing it and trying to sound out the Latin words. From Chapter 20 she wanted to do the ice skating project but the weather didn't cooperate for us.
Along with The Trumpeter of Krakow (that's another whole blog!) which the boys were doing it was a nice fit with our medieval study.