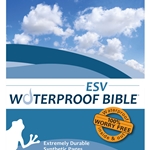 I haven't been doing as many reviews as I used to but when I was asked to review this one for Mosiacs I jumped at the chance.
A waterproof Bible, how cool, right?!?!
With two boys I figured we'd find a good use but it was actually my husband who ended up putting it to the test.
My husband has several health conditions that are greatly helped by nightly soaks in our Jacuzzi.
He actually always has a book by our tub that he is currently reading while he soaks away his aches and pains.
Between the water itself and the steamy atmosphere the books sometimes end up with "ruffled" pages or worse.
With the Waterproof Bible that was not the case.
He actually even totally submerged it and the pages dried right out.
It might be better to say they really never got wet.
There were a few "beads" of water but most was repelled.
We did find a few pages "stuck" together but after simply fanning it literally once or twice that problem went away.
The biggest thing my husband wanted me to mention is the print.
He typically now prefers a large print Bible but though this was normal to small size type he could read it easily.
We're not really sure why this is but the type seems to "jump" off the page more than in a regular Bible.
The pages seem to be a brighter white as well and because they are thicker there is no faint letters coming through from the reverse side which perhaps helps as well.
The copy we received for review was an English Standard Version New Testament but other sizes and types are available.
How do I know?
Well I could just check their site but
interestingly enough my oldest son had a full size (Old and New Testament) copy in his Bible case.
He's been using it for quite some time.
Each summer he's been a lifeguard for Bair Lake Bible camp so the Waterproof part has come in handy around the pool and lakefront.
Besides the waterproof part the pages are thicker and seem to be hard to rip or tear.
I'm sure that's why my sons looks as good as it does after using it for a while!
I would love to get a picture for you but he's already left for camp for the summer with his Waterproof
Bible.
He's the Waterfront Director this year and had to report in May to get the pool and lakefront ready for campers!
So yes, I would recommend this Bible for anyone who is active around
water or just like my husband
and likes to read in the tub!
You can find it at Bardin and Marsee Publishing
It's available in ESV, KJV, NIV, NKJV and NLT version with several "style/color" choices.
The new testament I received is sold for $24.95.
*I received no compensation for this review other than the free product.
This review is part of
Homeschool Mosaics Reviews.
You can read other review of this and other products at their website.